"Register Your Company in Cyprus
in 10 Days
"
A 5-minute reading ebook co-written with experienced incorporation lawyers containing :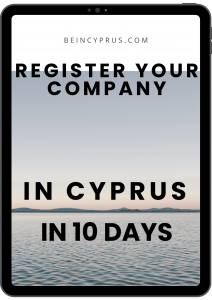 Words from the founder:
"After 8 year of working with international groups (L'Oréal, Ralph Lauren) in 4 different countries, I've decided to move to Cyprus to create my own business.
Although I was used to settle in new countries, I have learned to incorporate my business in Cyprus the hard way : finding partners I can trust (lawyers, accountants, insurances) or apply at the immigration with the right documents in hand just to name a few.
I've decided to put my experience at the service of other entrepreneurs. That's how the idea of beincyprus.com is born. 
Today, I collaborate with top-notch law firms, accountants and trusted insurers to help others register in Cyprus or incorporate their business without forgetting to benefit from the many advantages that the country has to offer : the people, the sun, the history, and much more."